"ARCO developed the best one-D basin modeling software."
-- quoted from a ZetaWare competitor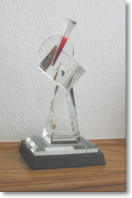 ARCO Exploration and Production Technology, a division of Atlantic Richfield Company (ARCO), spent over 15 years of research to build this state of the art basin modeling program. The results of many key research projects were incorporated in Genesis so that the technology investment can be applied in the exploration projects. ARCO sponsored many research projects to support the development of Genesis. These projects included source rock data base study, kinetics of source rocks, source rock sorption research, burial history database, bottom hole temperature correction, paleo-surface temperature study, ... to name a few.
ZetaWare continues to work closely with the top minds in the industry, especially those at the ZetaWare's consortium companies. Genesis has benefited greatly from the on going research.
Genesis sets itself apart from other commercial 1D software with advanced theories as well as ease of use.
Genesis models the full lithosphere in the transient thermal model so heat flow can be predicted away from well control and through geological time. Here is a example from the Browse basin
A source rock facies data base to link lithofacies with kinetic models. Genesis will provide a mixture of analog kinetics parameters to best describe your source rock.
Modified/Improved Rift heat flow modeling to account for radiogenic heat component loss during rifting. The traditional models over-predict heat flow and maturity in such basins.
Lithology mixing in Genesis is unique. The different lithologies in a formation are handled as truly inter-bedded layers, while other 1D models just average the parameters to make up a new lithology for each formation
Genesis handles complex geology such as thrusting, faulting, salt movement in the PDE solver directly so all the effects are simulated. Some of the competitor products can only mimic the geometry change but not the processes.
Modifed/Improved the quartz cementation model developed by Walderhaug (1994) and made it available by the click of a button.